Christmas is Coming…Many exciting things!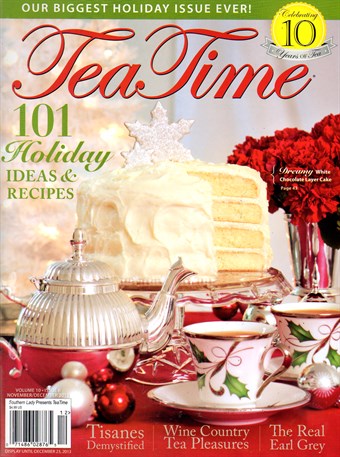 Mentioned in current issue of Tea Time Magazine…page 11…that's really a blessing.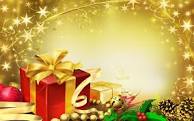 Don't forget Christmas is just around the corner and we have some great gift ideas for you!
Tea on the Titanic

by Penelope! Autographed copy only $14.95
Penelope's Royal Teas – Titanic, Breakfast Blend and Black Currant $8.00
Tea Cozies – keep your tea warm for hours – Handmade in USA/washable $35.00
Go to products page. Thanks!!!
Events
Mornings here in Denver are starting out rather chilly. Only 30 degrees this morning, so a hot cup of Penelope's Breakfast Blend Tea is just the trick to start the day off right. But, by noon, we are in the high 50's and sunny. The leaves have fallen off the trees, so it's starting to look like winter….which here means snow tires, snow plows and shoveling snow! The Farmer's Almanac is predicting a long and snowy winter. Just the atmosphere for curling up with a good book and a cup of tea… OR attending one of the following Tea Events with a group of girlfriends!
"You can't get a cup of tea big enough or a book long enough to suit me." C. S. Lewis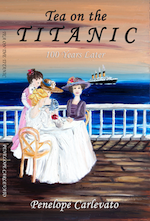 Next Thursday, November 14th, I will be presenting a Tea on the Titanic program at The House of Commons Tea Room (15th and Platt) in Denver. The event starts at 4:30…reservations required…call 303-455-4832. "An oasis of calm in a busy world..The House of Commons provides a taste of England with food and a wide range of fine teas."
Sunday, November 17th, come for tea and enjoy the afternoon with us for a Titanic Tea…and book signing at Pots Tea at 8100 South Quebec in Littleton at 2 pm. Call 303-771-4TEA (4832) for reservations. I will be sharing from my book, Tea on the Titanic. A nice way to spend a Sunday afternoon with friends.
Saturday, Nov 23rd at Stonebrook Manor in Thornton. (near I 25 and 120th ). I will be presenting The Art of Afternoon Tea (all the ingredients for a time of charm and elegance) …two seatings…11:00 am and 1:00 pm. A full afternoon tea served in a lovely venue! Call 303-255-0063 for reservations.
Saturday, November 30, dodge the shoppers and come aboard the Titanic for an afternoon of sipping tea and exploring the customs and etiquette of 1912…Stonebrook Manor..two seatings, 11:00 am and 1:00 pm. Call for reservations..303-255-0063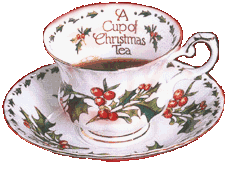 December Events….Stonebrook Manor –
Reservations required..303-255-0063
December 14th – Children's Christmas Teddy Bear Tea..11:00 and 1:00
December 19th – A Cup of Christmas Tea..11:00 and 1:00
December 20th – Tea and Scones and So Much More..11:00 and 1:00
December 21st – English Country Christmas Tea..11:00 and 1:00
December 27th and 28th – Christmas Tea..11:00 and 1:00
Recipes
Emily's Cinnamon Crackle Cookies
I am always looking for new recipes to serve at teatime – and especially ones that are quick and easy.
My friend, Emily, who lives in Ireland, was making these cookies the other day and posted a picture of them on Facebook. I requested the recipe and here it is. Because we have readers all over the world, especially in the British Isles, the measurements are listed for both US and UK bakers. Please follow the directions even if you think they don't look right…I had to make two batches to "get it right"!!!
2 cups (375 gram) brown sugar
2 Tab melted butter
2 beaten eggs
3 cups or a little less (375 gram) flour
Cinnamon (a lot) and allspice…*no amount given…I guess I used 2 Tab of cinnamon and 2 tsp of allspice.
Mix the sugar and butter together, then add eggs and mix thoroughly. Next add the flour and spices and stir until blended. It should be a firm and slightly dry dough. If it doesn't stick together, knead for about a minute.
(Here is where I goofed)
Pinch a tiny bit of dough, about the size of a dime (5 pence coin) roll into a ball then roll in sugar. Place on parchment lined baking pan (cookie sheet) and bake for 5 minutes at 350° F (180 gas mark). If your cookies are larger, bake for 8 to 10 minutes. I didn't think they were done, so I baked them longer than the time stated, and…yes, you guessed it…they turned out really hard. Properly made, the cookies are crispy on the outside and chewy on the inside. Makes about 60 little cookies.
Emily's Mom made these with cocoa powder so they were really chocolatey and gooey. Emily says we can make some really fun cookies with the basic dough (before we add the cinnamon)…or don't add the cinnamon and allspice, and try some of the following:
Chocolate chips
Cranberry and orange zest
White chocolate and crystalized ginger or dried fruit
Toffee chunks and apple
Nuts…etc.
Thanks, Emily! What I really like about these cookies is they are little and perfect for afternoon tea sweets.
Titanic News
Titanic Violin….Sold for $1.7 million
Wallace Hartley's violin sold at auction in London several weeks ago for almost two million dollars. The name of the buyer has not been disclosed. Mr. Hartley was the Titanic's bandleader and encouraged the group of musicians to continue playing as the ship was sinking.
I shared with you a little bit of the history of the violin in the last blog. According to survivors, the music calmed the passengers and evidently keep some sense of peace to those on board. "Nearer, my God, to Thee" is said to have been the last song played as the ship took on water. The violin was found several days after the sinking of the Titanic in April of 1912, strapped to the body of Mr. Hartley. No other memorabilia has brought this kind of sum.
Tea Tips
Storing your tea.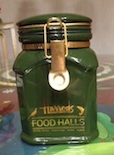 Most teabags today are sold in boxes, with a waxed or foil liner. To keep your teabags or loose leaf tea from going stale, transfer the tea to an airtight container and store in a cool, dry area. It is not a good idea to store tea in the refrigerator or freezer, as the condensation or moisture created with this type of storage can affect the flavor of the tea. Tea should be kept away from light, air and heat. Many teas are quite lovely to look at with the additions of flower petals, curled leaves, etc. and you may be temped to store tea in a glass container, but the light will "do it in." If you like to keep close company to your tea, buy a pretty tin or *ceramic caddy, transfer the tea into the container as soon as possible and enjoy. I have some teas that still taste very good after 4 years of storage. Maybe they are not as vibrant, but certainly drinkable! That's what happens when friends find out you like tea…which is a good thing…gifts of tea! Next blog I will share about tea caddies and their importance in the history of tea.
Tea Tour 2014
Keep on the alert…I think we are about to announce the New and Exciting Titanic Tea Tour to England and Ireland in 2014. You will be the first to know the final plans. Thank you to those of you who have been so patient.
Until We Tea Again….Penelope
"But all who find safety in you will rejoice; they can always sing for joy. Protect those who love you; because of you they are truly happy."
Psalm 5:11
Phone #: 303-498-9337 Email: Penelope