Would love to meet you at the book signing next Saturday, January 25th in Rolling Hills Estates, CA
It will be an open house at Annie's Tea Time Warehouse
656 Silver Spur Road
Rolling Hills Estates, CA 90274
Stop by any time between 10:30 to 1:30 ~ sample teas and purchase your autographed copy of
Tea on the Titanic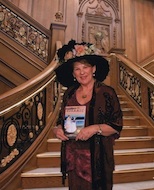 Ireland, Wales and England…here we come!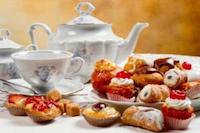 Tea on the Titanic Tour
May 9th to 19th
Join me on this exciting Titanic tour through time. You'll sample tea at premiere properties and enjoy 11 nights in Ireland, Wales & England. Our journey will take us to the place where the Titanic was built – Belfast, Northern Ireland, down the east coast of Ireland to the last port of call for Titanic – Cobh, and from Cobh we'll take the ferry over to the UK to visit Wales, Southampton, and London.
Visit: for complete itinerary, pricing and reserve your place on this once-in-a-lifetime trip.

With Valentines Day approaching…what a lovely time to have a Cream Tea…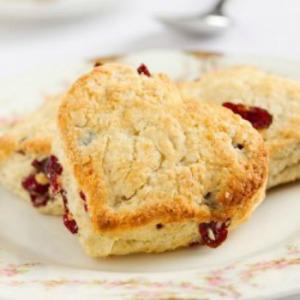 It is one of the most delightful ways to share tea with friends or your valentine! Just whip up a batch of scones, make some clotted cream, set the tea table with your best teacups and a bouquet of red roses…A Cream Tea!
This a a very tasty scone recipe and ever so easy…enjoy!
Cream Scones
Ingredients:
2 cups all-purpose flour
1 Tab. sugar
2 ½ tsp. baking powder
¼ tsp. salt
¼ cup cold unsalted butter in small pieces
2 eggs
2/3 cup heavy whipping cream
1/3 cup dried currants or cranberries
1 Tab sugar
Jam and clotted cream for serving
Directions
Preheat oven to 400°F. Line a baking sheet with parchment paper.
In a bowl, stir together the flour, baking powder and salt. Add the butter and using a pastry blender cut in the butter until the mixture resembles coarse crumbs.
In a small bowl, whisk together eggs and cream. Save 2 Tab of the egg mixture to brush onto scones before baking. Add egg and cream mixture to the flour and stir until a sticky dough forms. Quickly stir in the currants or cranberries just until evenly distributed.
Turn the dough out onto a lightly floured board. Knead gently until the dough holds together, about 6 to 7 times. The dough should be soft; do not over knead, or the scones will be tough. Divide into 2 equal portions and pat each portion into a round 1 inch thick and 6 inches in diameter. Cut each round into 4 equal wedges. Or use a heart-shaped cookie cutter. After making the hearts, gather up the remaining dough, gently re knead and then flatten and re cut until the dough is used.
Arrange the wedges or hearts, 2 inches apart, on the prepared sheet. Brush the wedges with the reserved egg mixture and sprinkle with sugar.
Bake until the scones are golden brown, about 15 minutes. Serve with jam and clotted cream.