Happy Fall Y'All
Sorry, just had to say that after living in the South for 6 years (Knoxville).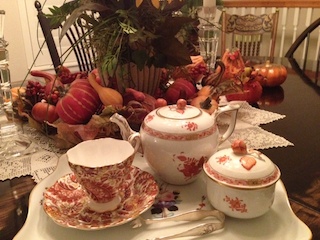 Molly Brown Champagne Tea – Saturday, September 20th
4:30 to 6:30 pm
$35/per person
The House of Commons ~
2401 15th Street, Denver, CO 80203
Call for reservations ~ 303-455-4832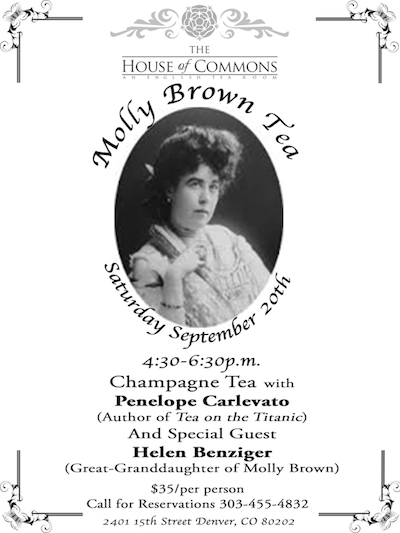 If you are in the Denver area, you won't want to miss this Molly Brown Champagne Tea. I will have the special honor of sharing the "stage" with Molly's great granddaughter, Helen Benziger. We will be talking about Mrs. Brown's life from various perspectives. Plus, the fabulous tea from The House of Commons. It will be a great time for all and hope you can attend.
The tea is in celebration of a brand new play about Molly Brown opening at the Stage Theatre at the Denver Performing Arts, September 12th thru October 26th. New songs enhance this remake of the 1960's musical that tells the story of Colorado's own heroine, Molly Brown. She was a survivor of the Silver Boom, the Gold Rush, and also the sinking of the Titanic. She is featured in a chapter in my book, Tea on the Titanic. (Available on my web site: TeaOnTheTitanic.com)
WE are having hot, summer weather here in Colorado…mid 90's, so it is a little difficult to
imagine fall sweaters, jackets and scarfs. However, my husband and I just went on an Alaskan
cruise and it was fall weather there. We, luckily, took layers, scarves and even hats as there were some cool days on the ship. Rain, too! And, sorry to say, did not have tea anywhere…nope, not a tearoom in sight! But, one afternoon on the ship, when it was raining, I went to the aft of the ship where some of the resturants were to get a cup of tea. Much to my surprise, I found freshly baked scones, with clotted cream and yummy strawberry jam. I only did this two afternoons, as I just had room for so much food, then that is it! But, it was a lovely cruise with magnificent scenery and also experienced my first Fjord and first glacier. Met some great people from all over the globe and yes, someone actually got back to the ship late at one of our ports, and we left without her!!! She will have quite the story to tell when she gets home. (She caught up with us and flew to the next port in a sea-plane and had to slide down the wings to get off!)
Here is a wonderful scone recipe that I was asked to contribute to Focus on the Family's Club House Magazine. It's easy enough for you to bake just before the kids come home from school, and they might just like to help, too.
Super Scones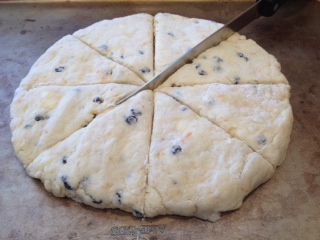 2 cups flour
2 tsp sugar
1 tsp cream of tartar
1 tsp baking soda
½ tsp salt
½ cup butter, softened a little
¾ cup orange juice
¼ cup dried cranberries
Cut in butter and stir in orange juice and cranberries. (The less you handle the dough, the fluffier your scones will be.)
Divide dough into two halves. Pat each section into a circle ¾ inch thick. Cut into triangles using a floured knife. Place on ungreased cookie sheet.
Bake 12 to 15 minutes at 400° F until golden.
Serve warm with jam and Devonshire cream.
Sift together the dry ingredients.
After School Tea Club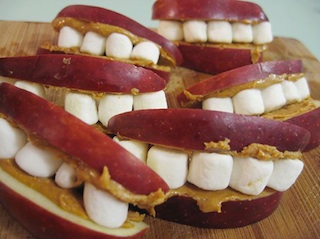 This month is the perfect time to start your After School Tea Club with your kids. As soon as they arrive home, put on the kettle, and dish out some healthy treats and plan on five to ten minutes of hearing about their day. It is the perfect time to "catch" them before homework, soccer practice and all the other activities after school. I have heard from many Moms that this has become a tradition at their home. Try this (fairly) healthy and fun snack with your kids…Toothy Apple Smiles. Wash and cut red apples into thin slices. Spread with your choice of nut "butters" (ones without sugar added) and add the little mini-marshmallows! Cute!!
New Book Coming Soon!
First-Class Etiquette
(from Titanic to today…manners matter)
First Class Etiquette covers proper table manners for home and restaurants, special manners at the tea table, and the necessary skills to host a good tea party. Topics ranging from table settings, tea party invitations, and hostess etiquette, this charming book, illustrated by my granddaughter Amanda, also offers recipes for popular tea party foods.
***If you would like to be notified of my new book's release, please make sure you are signed up for my newsletter! And "Friend" me on Facebook.
Book Signing:
Titanic Museum, Pigeon Forge,TN
October 25th and 26th
10 am to 5 pm
Hope to see you there!
"The steadfast love of the Lord never ceases; his mercies never come to an end; they are new every morning; great is your faithfulness" (Lamentations 3:22-24).