HAPPY THANKSGIVING!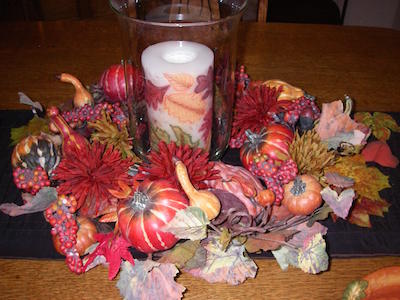 "There is one day that is ours. Thanksgiving Day is the one day that is purely American." O. Henry
I think that Thanksgiving is one of my favorite holidays. I love the food, the family time and the good will that is shared, but without all the craziness of presents and decorations! I have such good memories of my mother in the kitchen preparing the Thanksgiving dinner. She loved having an extra holiday, as Thanksgiving wasn't celebrated in her native England. We all helped set the table and spent hours in the kitchen hoping to get an early taste of some of the goodies before the guests arrived. This year we are hopping on a plane and flying half-way across the country to our son's home. But the same feeling of family and excitement prevail.
It's a good time to remember all the kindness that others have bestowed upon us this past year. It may be a small deed that made your day, or a wonderful blessing that rocked your boat. Whatever it was, remember to have an attitude of gratitude. Let's make it a lifestyle that can be enjoyed every single day. It changes the way we look at life. I Thessalonians 5:18 puts things into perspective for me: "Give thanks in all circumstances, for this is the will of God in Christ Jesus for you." We must place the emphasis on the thanks in all circumstances, not for all circumstances.
Nine steps for an Attitude of Gratitude…
1. Appreciate what you have and not what you don't have. Focus on the blessings.
2. Be thankful for the people in your life who have believed in you and have been of part of the building of who you are today.
3. Smile!
4. Say "Thank You" for little things ~ to those close to you…like family!
5. Don't expect perfection, from yourself or others.
6. Say "Sorry" ~ it has powerful effects.
7. Keep a journal of things you are grateful for every day.
8. Pray and read your Bible every day.
9. Exercise and get enough sleep.
---
NEW Book Release!!!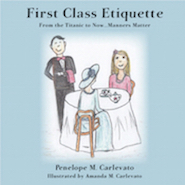 My new book, First Class Etiquette, is out and ready for you to purchase for Christmas.
I am so excited to introduce my granddaughter, Amanda, as the illustrator of this new book. Our book is just in time for Christmas gift giving, not just for kids, but for all you big kids that need a kick-start in the manners department for your holiday visits. Plus all you need for that next tea party with your grandkids or friends.
For a personalized and autographed copy of First Class Etiquette: Penelope's Website
or
Amazon.com
Amanda and I will be doing a book signing on Saturday, November 29th at the Titanic Museum in Pigeon Forge from 10:00 am to 5:00 pm. We would love to personally autograph a copy for you!
---
"Scones and Tea at The Book Bar!"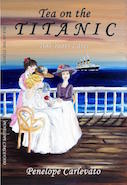 Book signing and reading from:

Tea on the Titanic
Wednesday, December 3rd
from 4:00 to 5:00 pm.
The Book Bar is a quaint, neighborhood, book-walled, bookshop and wine bar with great food!
Everyone attending will be served tea and scones, so drop by! Both of my books will be available.
The Book Bar
4280 Tennyson St., Denver, CO 720-443-2227
---
"Christmas Tea on the Titanic"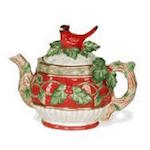 Wednesday, December 10th
3:00 o'clock to 5:00 o'clock
Foothills Green Gallery
5500 South Sims St. Littleton, CO
772-877-1821 for reservations or
www.foothillsgreengallery.com
Spend a delightful afternoon enjoying a delectable English Tea and sharing with Penelope how the Edwardians would have celebrated Christmas…plus The Art of Afternoon Tea….etiquette, customs, and protocol.
---
~ Recipe Corner ~
Mini~Bundt Apple Cakes
Fun for tea time or Thanksgiving Dessert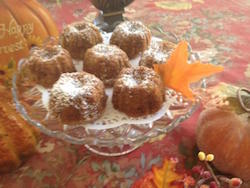 1 ¼ cups coconut oil
2 cups lightly packed brown sugar
3 large eggs
3 cups all-purpose flour
1 teaspoon baking soda
1 teaspoon baking powder
½ teaspoon salt
2 teaspoons cinnamon
½ teaspoon cardamon
2 teaspoons vanilla
3 Tablespoons buttermilk
3 cups peeled and chopped apples (can use combination of different apples)
1 cup chopped pecans
Powdered sugar for topping
Preheat oven to 350° F.
Grease and flour the mini-bundt pan, or spray with Baking spray with flour.
Beat the oil and sugar with an electric mixer until creamy. Add the eggs, one at a time, beating after adding each egg.
In a large separate bowl, with a wire whip, mix together the flour, baking soda, baking powder, and spices.
With the mixer on low speed, add the dry ingredients, one cup at a time, then the buttermilk and vanilla.
Fold in the apples and the nuts.
Batter will be thick. Fill each of the bundt pans ½ full.
Bake until a toothpick inserted into the center comes out clean…about 20 minutes. Transfer the cake pan to a wire rack and cool for 15 minutes.
Unmold the cakes, place cakes flat sides down on a wire rack and cool completely.
Before serving, top the cakes with sifted powdered sugar.
Enjoy your family and friends this Thanksgiving. Hope we connect soon.