Boo Hoo…What are we going to do without Downton Abbey?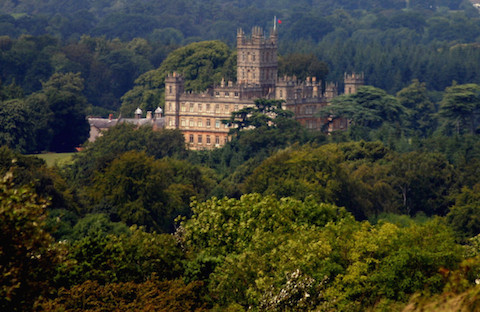 It's a long wait for season 6, but in the meantime, let's celebrate St. Patrick's Day
with a "wee bit" of an Irish Downton Abbey Tea…after all, it might just be the last tea party we can have with the Irishman Mr. Tom Branson and Miss Sybbie. Do you think they will really go to America?
Latest news at Downton Abbey:
Princess Kate (Duchess of Cambridge) will pay a visit the set of the award-winning drama. It's set for Thursday, March 12th and I am sure we will be able to read all about it in the news. This may be one of her last duties before she takes a break to have her second baby, due in late April. Both Prince William and Kate are avid fans of the show and have admitted to watching it on Sunday evenings. The Princess will not be going to Highclere Castle, but to the studios in Ealing, west of London, where the "downstairs" scenes are filmed.
In case you are not familiar with Downton Abbey, it is a hugely popular show filmed in England and is shown in the US on PBS Masterpiece Theater. The drama follows the fictitious lives of the Crawley family and their many servants who live in a large country manor in the Yorkshire area of England. The main characters have taken on a life of their own. The show now reports a following of 10.5 million viewers in over 200 countries.
While waiting, here are some great British dramas to watch until the 6th season of Downton Abbey returns in January 2016. My husband and I have enjoyed some wonderful series, such as:
Foyle's War, Doc Martin, Call the Midwife, Poirot, Midsomer Murders, Miss Marple and the House of Cards. Many are available on Netflix or Amazon, and past series of Downton Abbey are on Cable On Demand.
So, catch up on your "King's English" and let's put the kettle on!
Wee Bit Irish Tea
Rachel's Zesty Carrot and Ginger Loaf (everyone loves it!)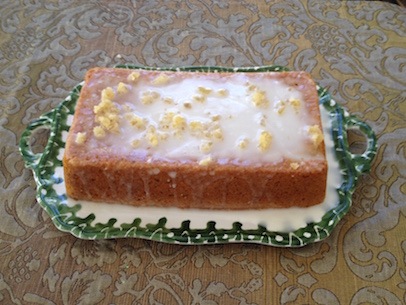 ½ cup butter
½ cup brown sugar
2 ½ Tablespoons Molasses
2 ½ Tablespoons Corn Syrup
Zest of 1 orange
Zest and juice of 1 lemon
1 cup grated carrots
8 teaspoons chopped ginger (I found this at Whole Foods in jar)
*1 ½ cups self-rising flour
¼ teaspoon baking soda
2 teaspoons ground ginger
¼ teaspoon black pepper
2 eggs
Glaze:
1 cup powdered sugar
Half of orange and lemon zest from above
Candied ginger, about ¼ cup chopped
Preheat oven to 350º F
*If you don't have self-rising flour on hand, this is a substitute: 1 ½ cup all-purpose flour, 2 teaspoons baking powder, and ½ teaspoon salt. Combine all ingredients and use in place of self-rising flour. You can double or triple this as needed for other recipes.
Line bottom of a loaf pan with parchment paper and spray sides with baking spray.
Place butter, brown sugar, molasses, syrup, and half of the lemon and orange zest in a pan and cook until butter is melted. In a large bowl, combine all dry ingredients together with a whisk, then add the flour mixture, carrots, ginger, and eggs to the melted butter mixture, and mix until smooth. Pour into loaf pan and bake for 45 minutes.
Remove from oven and place on a cooling rack for 5 to 10 minutes, then invert onto rack until cool.
Glaze – add the half remaining zest and the lemon juice (about 4 teaspoons) to the 1 cup powdered sugar to make a thick glaze and spread over cooled cake. Sprinkle chopped candied ginger on top!
This recipe was sent to me by my cousin, Rachel of the ThePuddingKitchen.co.uk or follow on Facebook – The Pudding Kitchen.
Serve this delicious cake with a nice cup of Irish or English breakfast tea, with milk and sugar.
Tea Tip : Always use milk, never half-and-half, cream, or coffee flavorings.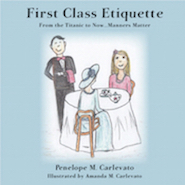 Book Release Party – First Class Etiquette (from Titanic to today, Manners Matter)
Saturday, March 14th Drop in anytime between 12:00 and 3:00 pm
Foothills Green Gallery, 5500 South Sims, Littleton, Colorado
Door Prizes, Tea and Sweets, Book Signing and Meet the Author (Me!)
Sign up for our upcoming Etiquette Classes
*Save the Date: Sunday April 12th 4:00 pm "Molly Brown Survives the Titanic" Tea
(who from Downton Abbey might have been on the Titanic?)
House of Commons, 2401 15th St, Denver, CO 303-455-4832