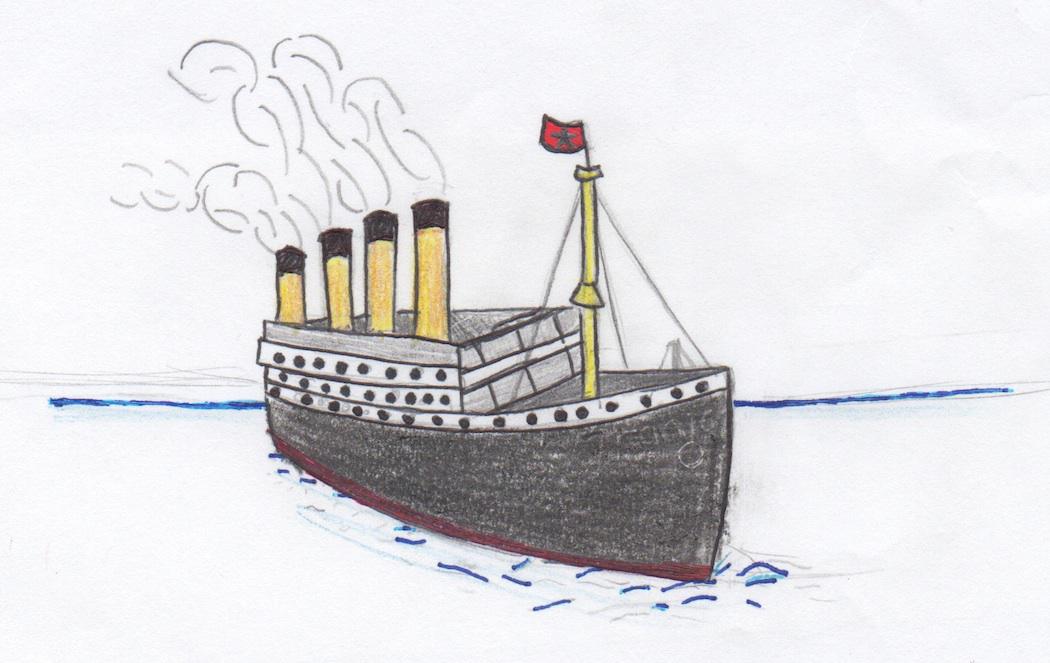 Drawing by Amanda Carlevato in First Class Etiquette
International Titanic Month
April is the time to remember all those who were on the Titanic by telling their story. It has been my honor to spend the past week at the Titanic Museum in Pigeon Forge, Tennessee, where thousand of stories and artifacts greet guests from all over the world on this 103rd Anniversary. Several events, to celebrate one of the most famous survivors, Molly Brown, are happening in Denver, Colorado.

~ EVENTS ~
Sunday, April 12th, at 4:00 pm – a wonderful Champagne Tea at the House of Commons Tearoom in historic downtown Denver. I am honored to be part of the activities, plus some personal words of greeting from Molly's great-granddaughter, Helen. Don't delay on making your reservation today. Limited setting. Arrive in your Titanic/Downton Abbey inspired clothing as we dine on petit tea sandwiches, scones, and delicious cakes, plus champagne, while learning more about this Denver icon!
Reservations: 303-455-4832 $40. 2401 15th Street, Denver

Saturday, April 25th, 12:00 to 3:00 pm
Book Signing at the Molly Brown House ~ 1340 Pennsylvania Street, Denver
I will be in the Carriage House Visitor's Center to greet you. If you have never been through the Molly Brown House, stay for a tour! Tours are every 30 minutes.

**I met so many wonderful children this past week who have an interest in history from the Titanic and Downton Abbey era…it was fun to hear why and how they are studying that time period. An observation I made during my visits with these young people is that they are on the whole very polite, engaging, and interested children. I am wondering if this has been one of the benefits of studying the history of a by-gone era?
Saturday, April 18th 2:00 to 4:00 pm
Children's Etiquette Class and Tea
Foothills Green Gallery, 5500 South Sims, Littleton, CO.
A very fun and interactive class that will give your children important life skills. Now, more than ever, our young generation want to know what is expected of them. This class will combine social manners in a variety of settings and will include dining etiquette as well. Introductory price of $35 and 10% discount on First-Class Etiquette book. For reservations, please call: 720-877-1821 or 720-878-8230
~ Tea Time Recipes ~
Cotswold Cheddar Cheese Sandwiches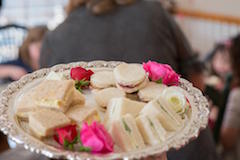 Over the years I have been to numerous teas and given as many, but I am always excited to try new recipes for all three courses of an afternoon tea. The sweets have been divine at so many teas, but this savory tea sandwich was very different and delicious. I was given the recipe from the docents at an afternoon tea I attended many years ago at the historic Mabry Hazen House, circa 1859, in Knoxville, Tennessee. My friends and I had afternoon tea on a lovely front porch in the sunshine of a beautiful autumn day. I think you might like to try this recipe at your next tea party. (The Cotswolds is a lovely area in the southwest of England, characterized by small towns and villages built of a light yellow Cotswold limestone. Not far from my birthplace in Oxfordshire and boasts many delightful tea rooms!)
1 cup Sharp Cheddar Cheese, shredded
½ cup mayonnaise
1/3 cup chopped pecans
1 Tablespoon finely chopped onion
4 Strips Well-cooked Bacon, crumbled and drained.
8 slices Whole-Wheat Bread
Combine all ingredients and refrigerate for one hour. Butter the bread and divide the cheese mixture between four slices of bread. Cut off crusts and cut into four quarters. Makes 16-quarter sandwiches.
Tip: Freeze the bread before making the sandwiches as this makes it easier to cut and less chance of tearing the bread. Refrigerate and cover the sandwiches with a damp paper towel to keep moist before serving.
~ Drink Tea for your Health ~
Last week I was honored to be the guest blogger for Janet Thompson's weekly Love your Body.
To read this blog – here is the link:
love-your-body-drink-tea-for-your-health
Tea on the Titanic
Do you know? – How many times a day did the ladies on The Titanic in 1st and 2nd class change clothes? Take a guess and leave your answer in the comment section.