---
Tea on the Titanic Tour to Ireland, England & Wales: Sept 26-Oct 6, 2014
---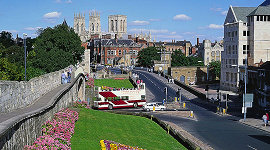 Join Penelope on a trip of a lifetime…travel by coach/ferry to some of the
most beautiful sights in Ireland, England & Wales.
For more information and specifics of tea tour contact:
Penelope's Tea Time @ 303-498-9337 or email:
"This was a dream vacation made special and memorable by your care and dedication to our experience. It was perfect for me and will remain one of my life's highlights!"
Linda Baltad, Long Beach, CA.


"My trip opened up the world, and placed the treasures of my long time wish to go to England in my heart forever. Thankyou for sharing what you love with others."
Maryann Jackson, Redondo Beach, CA.


"Everything about the trip was wonderful. The small group allowed us to do many special things. It truly exceeded my expectations."
Linda Miner, Arroya Grande, CA.


"Tea at the Manor Farm the lovely Sunday dinner were the highlights for me. That is why I have gone on two of the tours. It all ended too soon!"
Reenie May. Lakewood, CO.


"Being an English major, I loved Stratford upon Avon. From the "Fish and chips" dinner to the night at The Royal Shakespeare Theatre, with the wonderful dinner on the River Avon, Ann Hathaway's Cottage, and Shakespeare's home, it was wonderful."
B. Barfod, Manhattan Beach, CA


"More that I expected, much more. I travel alot, and this was the best trip of my life!"
C. Neumann, Redondo Beach, CA
---
Click on a image to see a larger version of the pictures. (Click on back arrow to return to this page)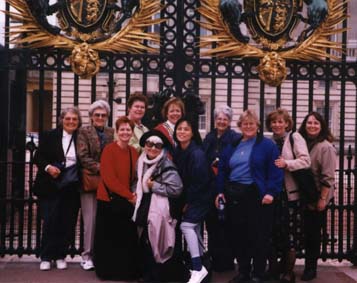 Buckingham Place


Queen Elizabeth
---

Return to previous page.
Last updated April 20, 2014.